Film Meets Fashion: Titanic
Just a few days from the 100th anniversary of Titanic, James Cameron released a 3D version of his 1997 hit film. In the 15 years since it's release, Titanic's story has permeated our culture, and become part of our zeitgeist. We adore seeing an old woman talk about her past for the fist time. We love seeing Rose and Jack find each other. We love how Jack saves Rose "in every way a person can be saved."
And we love the fashion of the era the movie depicts. 
Titanic focuses a lot on the class distinctions and social norms that existed in 1912 (and that are still relevant today…99% anyone?). James Cameron refers to it as "Romeo and Juliet on the Titanic." A lot of this is shown through dress. Jack's raggedy, "person of limited means" clothing is constantly contrasted with the monkey suit wearing men of Rose's class. 
Rose herself has outfits that any girl would die for and often looks as if she just stepped out of a Worth catalogue. From her pinstripe, white suit in the beginning of the movie, to her black beaded, peach dinner dress, Rose shows off the loveliness of the times. Of course, this movie led to a late 1990s race to the mall to find the nearest prom dress, or evening wear that reflected Rose's style (a la 2008's mad dash for Keira Knightly's green gown in Atonement).
Yet, Rose is also trapped by her class, so a lot of her clothes reflect that. I don't think any of us girls would wear corsets daily in the present time. But Rose must.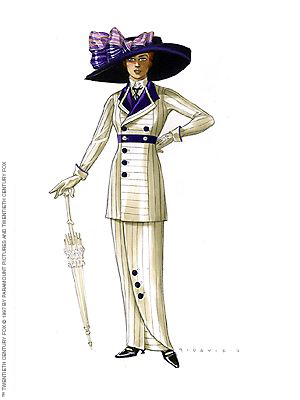 And she still looks beautiful. Her clothes inform her personality, situation, psyche and time period. What more could you ask of costumes? 
- KB
P.S. Check out my post about hearing James Cameron speak about Titanic!
http://blondescarlett.tumblr.com/post/20949657223/listening-to-james-cameron
trendzas posted this